Simple Shop® is a professional computer program for invoicing via POS and A4 printers.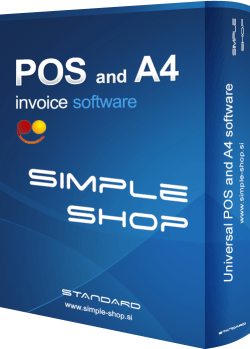 Who is it for?
All - small and large, as they are able, satisfying even the most while smaller companies do not compel the use of potentially redundant features.

Minimum requirements for operation:
Microsoft .NET Framework 4.7.2. Retrieved from Windows Update or through the installation of software Simple Shop. Link to the manual installation
Minimum screen resolution 1024 x 600 pixels.
In the event of network version is a basic requirement also Microsoft SQL Express Server 2008 R2 (more in SQL server).

Supported operating systems:
Business software Simple Shop is tested on the following operating systems.

Operating Systems:: Windows Vista, Windows 7, Windows 8, Windows Server 2012, Windows 8.1, Windows Server 2016, Windows 10, Windows Server 2019 and Windows 11
Also Works With: Linux (Ubuntu) via Wine, PlayOnLinux, VirtualBox and PlayOnMac
32-bit and 64-bit Support: Automatically adjustable support for each computer