By purchasing we gain:
- Enable all purchased program features + features acquired by upgrading
- At the valuable feedback free implementation of the desired ideas
- Professionally licensed software
- By buying support further development of an integrated software package
Multiple activation with the same license activation password is bound and allowed only to the same tax number of the company as it was entered on the first successful license activation of Simple Shop software.
Updates: 12 months or 1 programming cycle for FREE, then an optional subscription (30 EUR including TAX / year)
(taken to be whichever comes first)
- Free upgrades for 12 months (from the date of activation of the derivative)
- Updates to the whole programming cycle (v1 -> v2)
Notice:
Changes and exceptions are possible on the basis of orders that are linked to tax legislation where activated software is used.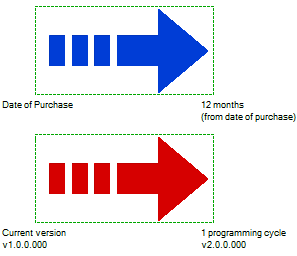 Price (Free): 0,00 EUR including TAX
Price (Standard): 200,00 EUR including TAX
Price (Ultimate): 300,00 EUR including TAX

To purchase a software package Simple Shop via your nearest dealer select a theme "Business partners".

Person has a valid certificate
to sell and support software
equipment for the year 2015, 2016.
•

Simon Dolenec




.


Telephone: +386 41 349 858
E-mail:

This email address is being protected from spambots. You need JavaScript enabled to view it.




.




.

Person has a valid certificate
to sell and support software
equipment for the year 2015, 2016.
•

Miha Trček




.


Telephone: +386 31 578 570
E-mail:

This email address is being protected from spambots. You need JavaScript enabled to view it.




.




.
Purchase via vse-za-blagajne.si:
Possible purchase of licenses: Standard and Ultimate
Purchase via PayPal network:
Possible purchase of licenses: Standard and Ultimate
Purchase via vse-za-blagajne.si: