Firstly you should know, that max size of added SODIMM RAM is 1GB (max support size on model ET1602C iz 2GB), recomended 667MHz.
To open up the back cover you need to remove a total of 4 screws in addition to the 4 in the desk stand + 4 for housing. The four screws around the edges are covered with silicone or rubber that are about 1cm deep. Just use a small screwdriver or something similar to lift them up (it will not be damaged).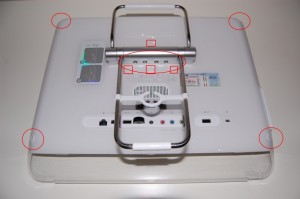 To remove the back cover use a small screwdriver to push it off through the small holes in the edges. You shouldn't have to use any excessive force to do this.