Testiranje se je izvajalo z davčno blagajno Simple Shop in strojno opremo POS terminal Ingenico, model ICT220, ki podpira brezstično poslovanje.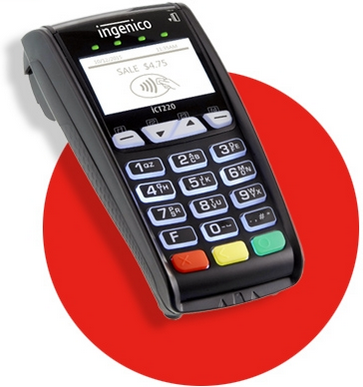 Uradna spletna stran strojne opreme: https://ingenico.us/smart-terminals/countertop-terminals/ict220-cl.html
Verzija programske opreme pri testiranju: Simple Shop v4.0.0.101.
NASTAVITVE PROGRAMSKE OPREME
Nastavitve komunikacijskega prehoda so odvisne od podatkov, katere sporoči certificirani izdajatelj strojne opreme. Nastavitve se lahko razlikujejo od naprave do naprave.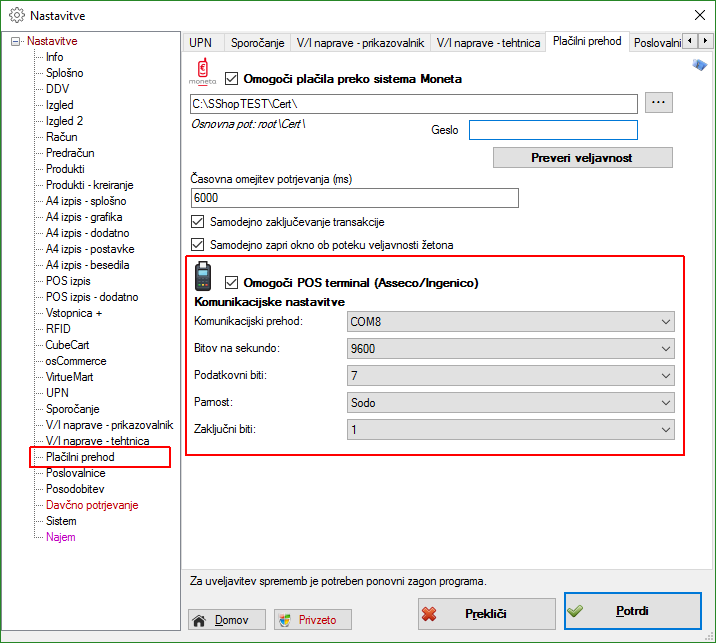 Nastavitve vrat (COM port) v operacijskem sistemu (Windows 10, angleška verzija).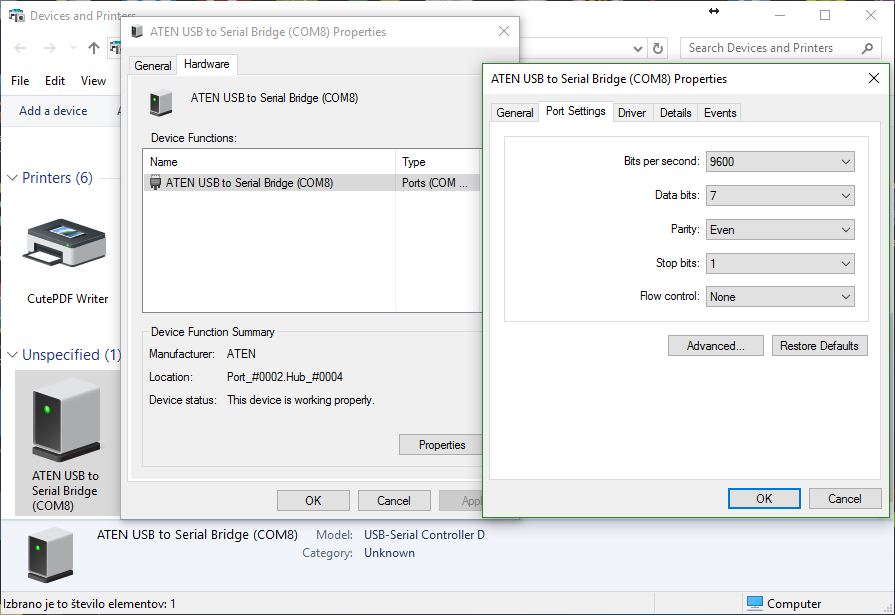 Osnovno okno programa pri testiranju: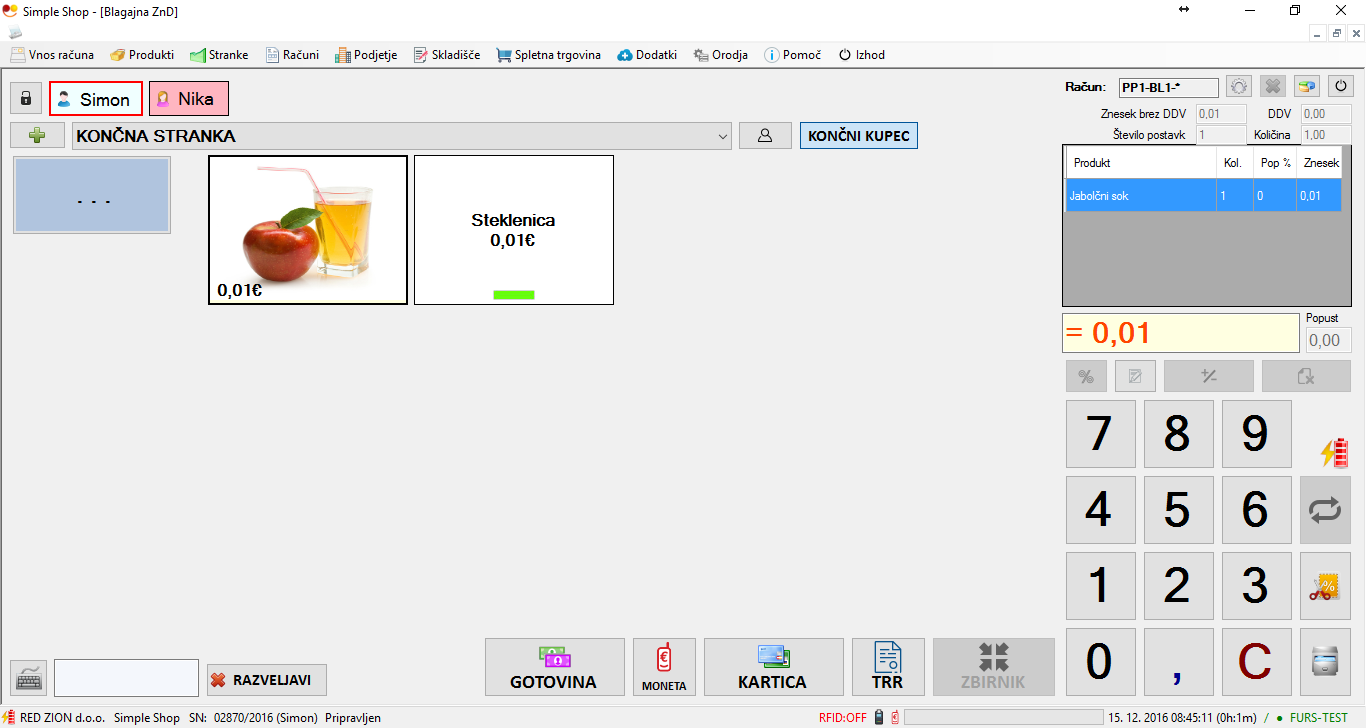 Ko je plačilni prehod za kartično poslovanje vklopljen je na desni spodnji strani (orodna vrstica programa) razvidna ikona za POS terminal.

INICIALIZACIJA

Začetno prikazno okno, ko programska oprema vspostavlja komunikacijo s strojno opremo. To okno se sproži takoj po izbiri plačilnega sredstva "KARTICA".
IZVEDITE PLAČILO

Po uspešno končanem inicializacijskem postopku je v primeru, da ni zaznanih nobenih napak naslednji korak plačilo preko bančne kartice. V prvem koraku se pričakuje od stranke, da izvede avtorizacijo; torej da izvede plačilo na POS terminalu.


Ko je postopek končan se za kratek čas prikaže potrditveno okno, posledično pa se istočasno natisne POS račun v programski opremi Simple Shop ter POS izpisek na POS terminalu.

PREKINJEN POSTOPEK

V kolikor prekinete postopek ali preko POS terminala ali preko programske opreme Simple Shop se prikaže okno o prekinjenem postopku.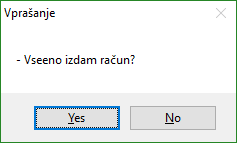 V kolikor že poteka protokol za transakcijo je zahtevani postopek za prekinitev transakcije preko POS terminala.

V kolikor pa je izpolnjen pogoj za časovno prekinitev sredi transakcije (npr. nedelujoča povezava z banko) je možnost prekinitve postopka tudi preko pojavnega okna.

STORNO TRANSAKCIJE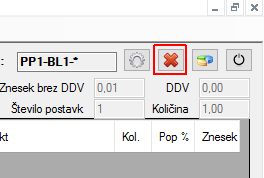 Za stornacijo izberite z rdečo označen gumb ali pa v osnovnem meniju programa pod "Računi" -> "Pregled računov" izberite željeni račun ter izvedite stornacijo.
OPOZORILO: Stornacija računa, kateri ima izvedeno transakcijo preko POS terminala se lahko izvede samo v tekočem delovnem dnevu - v nasprotnem primeru stornacija ne bo uspešna.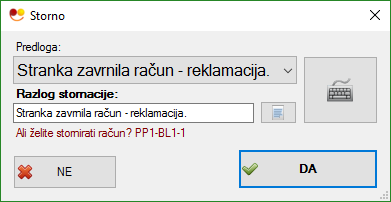 NAPAKA - ČASOVNA PREKINITEV

V kolikor uporabnik ne stori ničesar ali če POS terminal javi časovno omejitev (timeout) se prikaže okno za časovno omejitev.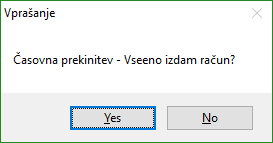 V kolikor vseeno izdate račun je smatrano, da ste POS transakcijo preko kartice izvedli ročno.
NAPAKA - KOMUNIKACIJSKA NAPAKA

V kolikor programska oprema ne zazna zahtevane strojne opreme dobite obvestilo o komunikacijski napaki.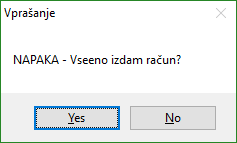 NAPAKA - ODSTRANJENA NAPRAVA
V kolikor se med inicializacijo ali med drugimi postopki prekine povezava do POS terminala se dodatno pojavi napaka o zaprtih vratih.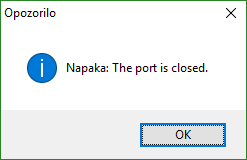 PREGLED IN PODROBNOSTI RAČUNA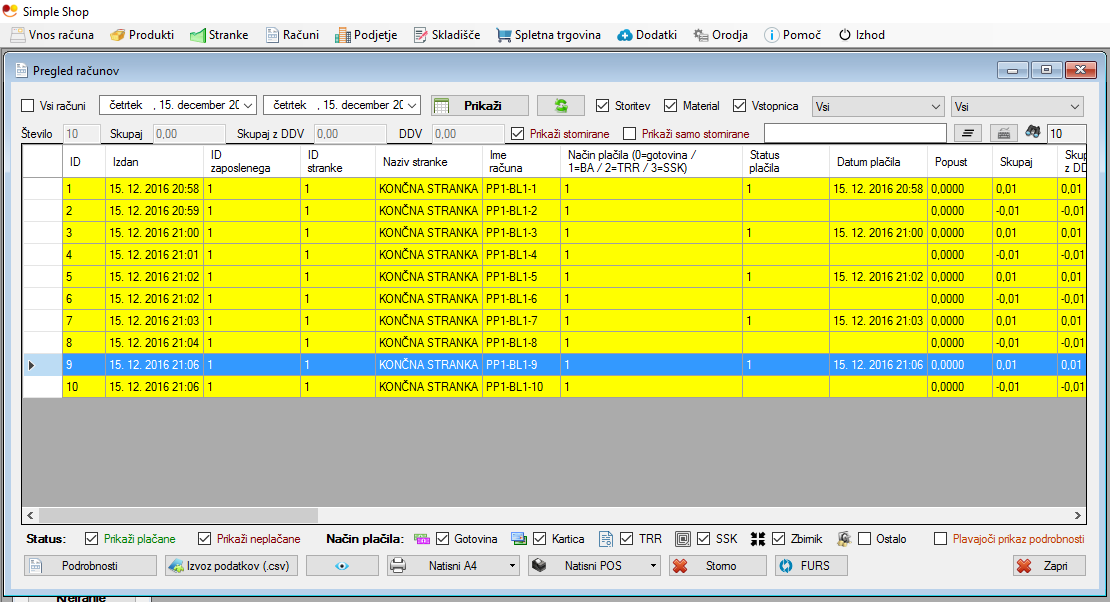 Na spodnji sliki je z rdečo označen okvir, kjer je razvidna uporabljena kartica pri plačilu ter številka avtorizacije.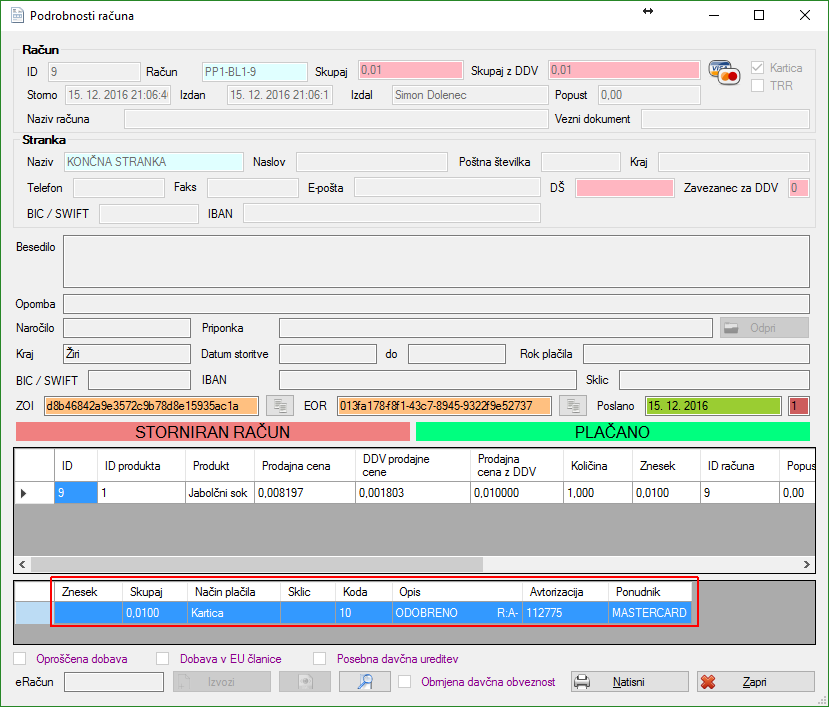 PREGLED TRANSAKCIJE V MOBILNI APLIKACIJI

V kolikor uporabljate pametno plačilno kartico (v našem primeru Revolut) imate možnost takojšnjega vpogleda v izvedeno transakcijo, kot je razvidno iz spodnje slike.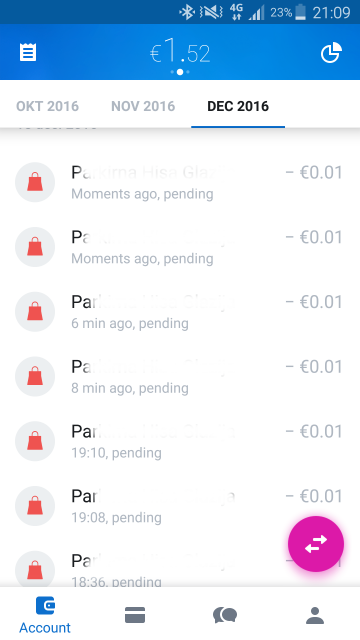 ZAKLJUČEK

Prednost pri uporabi programske opreme pri kartičnem poslovanju je vsekakor velika ker se na zelo enostaven način onemogoči človeški faktor napake "prepisovanja" zneska iz zaslona v POS terminal. Prav tako pridobimo na hitrosti izdajanja računa, v primeru potrebe po stornaciji pa je zadeva še toliko bolj enostavna, ker ni potrebe po iskanju transakcije v majhnem ekranu POS terminala ampak vse to hitro in enostavno izvedemo z enim klikom preko programske opreme.